Gain the knowledge,
skill and ability
to protect yourself
and your family
50,000 Minnesotans have trusted Minnesota Gun Class for their Permit to Carry certification at our many statewide locations. Also, thousands have taken the classroom session online at their own convenience. Our class is geared for everyone from beginners to advanced shooters. If you are new to handguns, this is a great introduction to everything you need to know to start your self-protection journey.


Upon successful completion of this class, you can apply for your Minnesota Permit to Carry and Florida Concealed Weapon License. With a Minnesota permit, you can carry in a total of 33 states. By adding the Florida license, that number increases to 37 states.
You want your Permit to Carry Class instruction to be the best available. You want the material to be high-quality and engaging. As United States Concealed Carry Association Instructors, we are licensed to use their excellent training curriculum. Our PowerPoints, videos and training books are the absolute best in the industry.
When you take a class with Minnesota Gun Class, you can be assured that you're getting the finest training available.
Here is what you will learn in our class:
Knowledge to help keep you physically, legally, financially, and morally safe
Personal Protection Plan
Handgun Basics
Shooting Fundamentals
The Legal Use of Force
Violent Encounters and their Aftermath
Gear and Gadgets
Minnesota Carry Law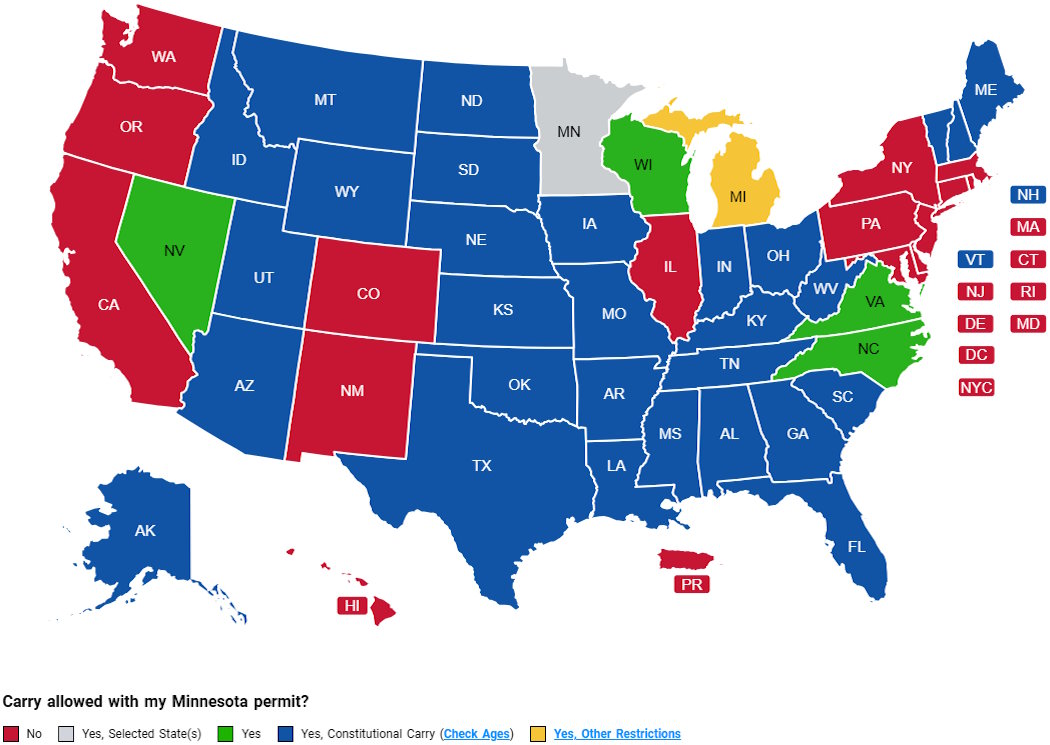 Reciprocity map is used with permission of the United States Concealed Carry Association.
Click on the map to link to their website with restricted reciprocity and other Minnesota state law information.